Several organisations have been collecting and publishing local initiatives in response to the Covid-19 crisis. We have updated our overview and are offering below the links to a number of these initiatives (see sections 1 and 2).

We have also conducted a number of discussions in June/July 2020 through the webinar series 'Rebuilding local economies after lockdown'. You can see the case examples presented, full webinar recordings and 'take away points' by clicking below.

'Reinventing local shopping and hospitality'
'Stay at Home Vacations – Staycations'
'Worsening inequalities / social inclusion'
Furthermore,  in section 3, Rosalba La Grotteria and Maria Joao Filgueiras Rauch present their thoughts and summaries of local initiatives from Europe (IT, PT) and beyond (Argentina, Azerbaijan) and Eileen Humphreys on Ireland.

1. Who collects, what?
New!
A briefing by AEIDL highlighting lessons for rural development based on the analysis of local rural initiatives implemented across the EU to respond to the COVID-19 pandemic crisis:
New! A paper by GIZ offering an overview from the perspective of developing countries:
Building back better from COVID-19 through inclusive territorial approaches
ENRD:
More examples have been added recently bringing the total to over 50 examples. New and other noteworthy examples include:
Euromontana:
The European association of maintain areas, Euromontana, has collected a number of initiatives supporting mountain farming during the Covid-19 crisis.
An example from France is the platform Des bras pour ton assiette which connects farmers in need of workforce and short-time workers and other people willing to find a new source of income. France estimates at 150.000 the number of needed seasonal workers to compensate the lack of foreign workforce due to the crisis
OECD:
The

OECD – Policy Responses to Coronavirus (COVID-19) series includes:
Cities policy responses: An updated note with examples of measures taken by cities to respond to COVID-19 and provides analysis on issues related to the economic impact, density, resilience and collaboration with national governments. Short and medium term responses provided by cities are clustered around six categories: i) social distancing; ii) workplace and commuting; iii) vulnerable groups; iv) local service delivery; v) support to business; and vi) communication, awareness raising and digital tools.
Capacity for remote working: Differences in the ability to perform jobs remotely will affect the impact of confinement and certain other social distancing measures on both individuals' employment outcomes and disruptions to local economies. This note provides an assessment of the regional capacity of 27 EU countries, Switzerland, Turkey and the United States to transition to remote working during a lockdown situation. It also shows that large cities typically have a higher share of occupations amenable to remote working. To a certain degree, this may compensate for the higher economic impact of COVID-related measures on cities.
This OECD newsletter has a number of relevant items under "Tackling the COVID-19 crisis together: our policy responses", including:
From pandemic to recovery: Local employment and economic development
Tourism Policy Responses
SME Policy Responses
Cities Policy Responses
Territorial Policy Responses
CoR:
The European Committee of the Regions has established an exchange platform and has published a number of initiatives.
An example is the cooperation on home care for the elderly during COVID 19, Ljubljana, Slovenia. The Health Care Institute of Ljubljana has established, a programme of occupational therapy counselling for elderly inhabitants of the City of Ljubljana. The main aim of the programme (SARS-CoV-2) is to maintain the greatest possible independence of users in the home environment. The programme has already helped many elderly people to feel safe during the COVID-19 situation and to feel optimistic towards the future.
RSA:
The RSA is collating multi-disciplinary resources and evidence on how regions, cities and industry are dealing with the impact of the COVID19. https://ldnet.eu/multi-disciplinary-resource-and-evidence-on-the-impact-of-corvid19-in-regions-and-cities/
URBACT:
URBACT has developed a map illustrating how cities are responding to COVID-19. https://www.google.com/maps/d/u/0/edit?mid=1f5PSeH6hwo1ATDXqaMr5c_6kOs1W0WJ8&ll=45.753218791918904%2C15.302596799999947&z=4
FARNET:
AEIDL:
Several AEIDL collaborators share their thoughts on the unprecedented crisis that we are going through, and express their vision and expectations, for better or worse, for the future.https://www.aeidl.eu/images/stories/pdf/covid-en.pdf
CoR/OECD:
The Committee of the Regions and the OECD conducted a survey on How is COVID-19 affecting regions and cities?
2. An LDnet selection: Local development in the COVID-19 era 
Contributions from Peter Ramsden, Alistair Adam-Hernandez, Stefan Kah, Robert Lukesch, Jean-Pierre Pellegrin
The COVID-19 Pandemic and Its Implications for Rural Economies
An interesting paper by Jeremy Phillipson et al presents a rapid assessment of current and likely future impacts of the COVID-19 outbreak on rural economies given their socio-economic characteristics – click HERE or HERE.
COVID-19, Territorial Inequalities and Spatial Justice

A first contribution from the Horizon 2020 IMAJINE project, which has been exploring the dynamics of territorial inequalities in Europe and investigating how these can be most effectively addressed by policy interventions, drawing in particular on the concept of spatial justice. The COVID-19 crisis and its uneven impacts add another layer to the complex inter-play of factors that shape spatial variations in the distribution of wealth and wellbeing, raising questions about the extent to which structural inequalities have been reflected in the geography of the outbreak; whether the crisis will reinforce existing territorial inequalities or produce new territorial inequalities; and how experiences of the pandemic will change people's perceptions of spatial justice and injustice, and their attitudes towards solidarity and regional resilience – Click HERE
This #FridaysForFuture, discover the story of this migrants' cooperative that has become key for food provision in #Italy during the #pandemic. Raised fist Herb #ClimateJustice through a #RightToTheCity lens: #UrbanRuralLinkages with #SocialSolidarityEconomy – Click HERE
Check out the 1st UrbanA Community Conversation with João Dinis, from Cascais, Portugal, who gave an insightful presentation on creating a local climate adaptation plan. It was followed by a live exercise in creating an actual plan – Click HERE
COVID-19: Share your initiatives!:  Wishing to share local initiatives in the fight against coronavirus, the French government has turned to Carrefour des innovations sociales, a platform in which AEIDL participates – Click HERE
Rennes – citizen factory platform and a reading corner full of publications, An online platform is now offered to residents to shared good practices to improve people's lives during confinement. @metropolerennes   #coronavirus #COVID19 #FlattenTheCurve – Click HERE
Which of our #Mayors are doing best during the #CoronaVirus emergency? What did they do and what can we learn from them for those that are not doing so well?  Tweet your suggestions using @LDnetNews  we will disseminate.  @URBACT  @post2020regions @EUROCITIEStweet  @ICLEI   @CCRECEMR
The @LarderLancs is a social enterprise providing meals for homeless, elderly and other groups in Lancashire during the #CoronavirusPandemic Bravo @LDnetNews
Keeping collective culture alive: Rotterdam's virtual music – Click HERE
Nantes – To support economic actors from artisans to small enterprises, Nantes is taking a range of actions including tax exemption, a single information point, and funding solutions – Click HERE   #COVIDnewsCities #covid19  @NantesMetropole 
Distributed production comes of age with the use of 3d printing to make urgently needed respirators. Who knew that it would take the #coronavirus crisis to make 3d printing socially useful? Can we find more examples of digitally driven local development? @LDnetNews
The French people made more than 1.9 million contributions in two months and held more than 10,000 community meetings." @pcoullomb of  @OpenfieldDesign shares examples of successful participative #democracy initiatives in the Spring 2020 issue.
See also:
https://wiki.p2pfoundation.net/Category:Corona_Solidarity_Initiatives#Spanish_Language
https://bx1.be/news/etterbeek-la-commune-requisitionne-un-hotel-pour-permettre-aux-sans-abri-de-se-confiner/
https://ssir.org/articles/entry/codesigning_better_futures_with_citizens
3. Some early reflections
i) From Rosalba La Grotteria & Maria Joao Filgueiras Rauch
The coronavirus emergency has put us in front of a series of micro and macro transformations and now that after more than a month of quarantine, what was previously "exceptional" has turned into "routine", we are wondering about the extent of these mutations and on the role of local development initiatives. During this period, some communities have exploited the "slowdown" that we are experiencing to reflect on what is happening to us and try to lay the foundations for the world to come.
Among the areas that are undergoing the most radical transformations are communities and spaces. And it is on this level that social innovation moves today to get the answers for tomorrow. In addition, the new poverty and the dramatic economic crisis that has occurred have led to the multiplication of numerous local development initiatives. Furthermore, the local micro-communities have been rediscovered and it will be crucial to enhance the school, sports, neighbourhood communities, small producers up to those of mothers and more generally of parents and the elderly. How? Certainly by putting in place the good practices that have so far emerged spontaneously to respond to emergency needs but which may perhaps provide answers to social needs in the coming years.
In LDnet we thought of starting to collect good practices and highlight initiatives to build a common space for reflection. We also hope to move on to the discussion of local recovery plans.
Here are some initiatives:
La Portineria di Comunita- Torino (IT)
https://www.spacciocultura.it/la-primavera-della-portineria-di-comunita/
The initiative is unique in Italy. It is the 'Community Concierge', which in Turin goes to the free aid of families and lonely people in this period of quarantine. The 'concierges' offer their time to help parents who are unable to follow their children in their homework, because they are busy with work or because they think they do not have all the necessary knowledge.
For the little ones, a series of games and creative activities, but also a bedtime fairy tale service. There is also SOS technology, to help people download applications, create accounts, transfer data. There is also the possibility to chat in French, with two native speaking concierges, and to follow a small singing course. For those who cannot do without hairdressers and beauticians, there are the practical tips of a Moroccan 'concierge' who uses homemade ingredients to prepare creams and hair dyes.
The 'Shop of Culture – Community Concierge' is a project conceived by the Italian Network of Popular Culture and is part of the 15 social innovation projects supported by the City of Turin, co-financed by the European Union – European Structural Investment Funds – Metropolitan City Operational Program 2014-2020; in partnership with the Pastoral Office for Migrants and Nobody is a foreigner. The initiative was born to encourage employment and the inclusion of the weaker groups and save time for those who do not have time.
Mértola challenges young people to develop initiatives of active citizenship (PT)
The Municipality of Mertola launched an award called "I participate – without leaving home" aiming to develop initiatives of active citizenship helping to overcome the COVID-19. These initiatives shall promote solidarity and mutual support and help as well as to fight isolation and loneliness.
https://regiao-sul.pt/2020/04/16/sociedade/covid-19-mertola-desafia-jovens-do-concelho-para-iniciativas-de-cidadania-ativa/493696
Another interesting initiative in Portugal was the case of the Insurance Company Aegeas that established a partnership with the respective Foundation, with the Hotels Association of Portugal and with a private company in order to produce masks to deliver to social institutions such as elderly homes. All the workers that accepted to participate have received at home a sewing kit and all together they have produced many masks to distribute.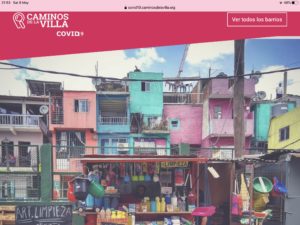 Argentina – Buenos Aires
Caminos de la Villa is a citizen action platform that allows easy access to information related to urbanization processes in the neighbourhoods of the City of Buenos Aires and see how they are being carried out.
The Caminos de la Villa has been adapted so that residents of the most vulnerable neighbourhoods of the city can geo-reference problems related to COVID-19 and access relevant information, in addition to continuing to monitor data related to the urbanization processes of the towns of CABA. The project carried out between ACIJ and Wingu.
https://covid19.caminosdelavilla.org/
Azerbaijan – Baku       
"The website http://www.evdeqal.az (evdeqal means stay at home) was launched jointly by the Ministry of Transport, Communications and High Technologies of Azerbaijan and the United Nations Development Programme. The main purpose of the website is to educate people about the importance of not leaving home when they do not need it and to protect their own health and the health of those around them, at the same time to provide easy access to digital services to meet the daily needs of the population. As it is known, amid social isolation measures due to coronavirus, people's demand for distance education, e-health, online stores and cinemas, online ordering of goods and services has increased several times. With this in view, the website evdeqal.az provides users with online services in the categories of "education", "delivery", "medicine", "food" and "entertainment", as well as makes available detailed information about the challenges and opportunities during the period of coronavirus epidemic.
The website also provides online learning opportunities for personal development, ways to build a digital business without leaving home, as well as online business management methods." https://evdeqal.az/
ii) From Eileen Humphreys on the situation in Ireland
Local authorities have a role in coordinating local responses here and there is a lot going on – Local Covid Response Forum set up (across the state in each local authority area involving local government, police services, key public agencies such as the Health Services Executive, sporting bodies, local development companies, charities and "community champions");  free phone / central contact point set up and available 8am-8pm 7 days a week for anyone needing support; support organised / delivered via local community & sporting groups  and registered volunteers; organising the volunteering efforts (sign-up, police vetting where there has been a lot of new activity), food distribution and identifying and responding to particular groups at risk, supports to SMEs, adapting the social inclusion and local development responses (more telephone support / moving courses online etc.). We have a small grants programme to distribute (up to €1k, to cover costs of local support actions) – deciding on awards by end of this week – as well as resources diverted from other programmes. Further initiative for government for the local authorities and local response fora to develop Wellbeing Initiative in the transition from the current situation of restricted social contact.