There are many challenges facing the implementation of CLLD and the multi-fund approach. A recent seminar European Seminar on CLLD took place on 8-10 November 2017 in Győr, Hungary, focusing on capitalising and learning from experiences of applying CLLD in rural, urban and coastal areas. Participants also discussed how to use European programmes and funds better in supporting local capacity building and bottom-up local initiatives, and touched on the hot issue of CLLD and the future. The programme of the Győr seminar and the speakers' presentations can be found at 'Capitalising on CLLD experiences – Building resilient local communities'.
The discussions at Györ and other forums in the final months of 2017 have shown that many of these challenges are serious and they have not yet been satisfactorily tackled in the 2014-2020 period and already pose fundamental questions for the longer term. They also offer hints of how some of the key issues could be addressed and in many ways have kicked off a debate that will intensify in 2018 linked to the new multi-annual financing framework of the EU and the future of Cohesion policy.
CLLD in urban contexts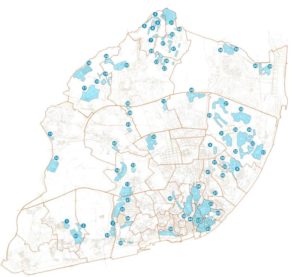 The relevance of 'urban CLLD' has been underlined in the recently published lessons from neighbourhood management in Berlin – see Pietro Verga's paper. However, the very limited take-up of the CLLD approach in urban areas in the 2014-2020 period is a key area of concern. This challenge was highlighted in the experience of Helsinki which was presented by Pirjo Tulikukka, Helsinki Neighbourhoods Association at the workshop organised by LDnet at EWRC 2017 ('CLLD challenges and solutions from Helsinki').
Participants at the Györ seminar had also the opportunity to hear about the experience of the 'CLLD Network' in Lisbon which encompasses more than 150 associations collaborating with the goal of combating poverty in the city. The CLLD Network has been promoted by the City of Lisbon, which has been experimenting with a series of programmes to promote civic engagement especially in socio-economically challenged neighbourhoods.
Multi-fund approach
A call for a strategic rethink on CLLD

There are already calls for a radical rethink – see the CARMEN proposal. In his presentation on 'CLLD and the future', at the Györ seminar (see link above), Peter Ramsden posed some fundamental questions that need to be answered if CLLD is going to make a decisive contribution and provided some pointers for a more strategic debate beyond the 'mechaniscs' of funding and managind CLLD.
Is CLLD stuck in a loop?
Are LAGs too dependent on EU funds?
Are programme priorities determining the actions? (rather than local needs)?
Will multi fund ever be like one fund?
Can audit be proportional? (and can we fight the fear?)
Can eligibility be standardised across funds and countries?
Is territory so relevant in digital times?
Are the next generation less attached to territory?
Can communities of interest be formed along other dimensions?
Can CLLD action plans be based around single hot topics?

Low carbon and local energy production
Circular economy – zero waste
Sustainable food
Integrating refugees and migrants
Reinventing local services
Meaningful work in a robotic age
CLLD and the future
CLLD needs to disrupt the old model of top down extractive economic development by:

bringing the citizen into EU policy making
using agile, lean, nimble approaches to show how economy and society can transition to a sustainable model

To achieve this CLLD needs to be simple to operate.