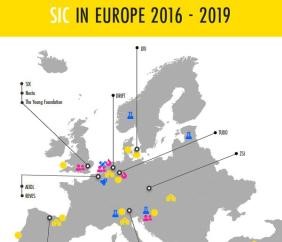 The Social Innovation Community (SIC) project was funded under the European Commission Horizon 2020 programme over a three year period, from 2016 to 2019. During these three years, SIC ran a series of on and offline activities – including practical place-based experimentation, learning, policy and research.
The project started from the premise that more open innovation approaches are needed to effectively address societal challenges. The project was designed to help deepen knowledge and capacity to act and grow social innovation, and to support public and other decision-makers across Europe to work with social innovators more effectively in solving public challenges.
The SIC project has now published a Yearbook summarising some of its activities and the project's impact on the social innovation ecosystem in Europe, as well as ways to  continue to nurture and grow social innovation in Europe.
The project was run by a consortium of 12 leading organisations across Europe. The partners were AEIDL, TU Dortmund University, University of Bologna, The Young Foundation, Nesta, Social Innovation Lab, the Dutch Research Institute for Transitions, Sinnergiak UPV/ EHU, ZSI, the Danish Technological Institute, REVES and Social Innovation Exchange.