Early findings from the RELOCAL EU Horizon 2020 research project 'Resituating the local in cohesion and territorial development':
R E L O C A L  in brief:
Departs from the premise that "place" can precondition the chances of local action in promoting fairness and well-being;
Aims at identifying factors that favour local accessibility of European policies and funds;
Examines which are the local abilities that allow better exploiting European policy and funding opportunities;
Contributes to enhancing the knowledge base on spatial justice and territorial inequalities empirically;
Applies a bottom-up perspective based on contextual territorially differentiated case studies.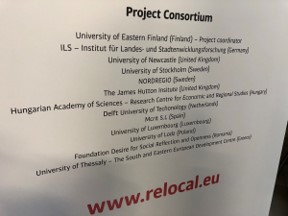 The 4th Project Workshop and the 2nd RELOCAL Project Conference took place in the city of Łódź, Poland, on 5-7th March 2019, hosted by Łódź University and the Regional Development Agency of the Łódzkie voivodeship. Katalin Kolosy from AEIDL took part as a member of the scientific advisory board.
In 2017, the RELOCAL researchers selected 33 locality-based/targeted case studies from all over Europe that represent different welfare regimes, rural and urban areas, disadvantaged and better-off localities and various cultural and historical contexts. Fieldwork took place in 2018 and the first draft case study reports became available in 2019. Each individual case is designed to provide a holistic picture of place-based targeted actions and their interaction with the spatial justice context. These interactions are analysed through various dimensions such as (a) promoters and inhibitors, (b) competences and capacities and (c) procedural and distributive justice.
Final case study reports are expected in April 2019. They will highlight how the actions being examined contribute to mitigating territorial disparities in the national context. National reports with case studies – including theory of change diagrams and narratives – are to be ready in May 2019. A quick review of 8 draft case studies reveals some early findings:
In several cases (Rotterdam Zuid / NL, Alzette-Belval /FR-LU, Kotka / FI), the voice of local citizens as beneficiaries of the action is weak ("within the … network there is a delegate of the residents but this is only one single person who serves as eyes and ears in the entire district. This person is no formal representative of neighbourhood associations, ethnic collectives and bottom up projects. This implies that at the lowest level the representation of marginalised groups within the … network is not very strong.");
Conversely, successful citizens' initiatives and civic engagement can raise issues of accountability or legitimacy in the field of urban planning and access to funding (see Görlitz / DE): "When talking about democracy, the people always think about political representatives. But they never get the idea that democracy already starts, when they start doing something together with their neighbours, creating something cool. And I think that's why you should not force legitimacy demands upon such democratic initiatives and projects such as youth participation, because then you end up in formal politics again, which upset so many";
Case studies related to LEADER (HU, RO, UK) all reveal that there is little direct attention on social issues; however, there is an important and positive impact on the sense of belonging;
A negative spiral of inequality is observed in places of poverty: contextual area deprivation can influence individual socio-economic outcomes, which in turn contributes to greater inequality of opportunity;
The reference to smart villages calls upon the social capital theory of linking, binding and bridging and may concentrate on smart 'villagers' instead, avoiding the revival of the old trench war between human geography and spatial planning.
Empirical work carried out through these 33 RELOCAL case studies will be synthesized in order to reveal alternative scenarios of future spatial (in)justice in European regions. The consortium agreed to the prospect of compiling all this hi-level quality and detailed documentation into a book to be published at the end of the project cycle (December 2020). There should be more scope for all local development aficionados to further advocate the outcomes of this impressive work in due time.
Katalin Kolosy
March 2019