The first webinar of the LDnet series on "Recovery through community-led approaches" focused on "New opportunities and challenges for local development in a post-Covid world". It was organised with the support of ELARD and FARNET, and attended by some 70 participants.
The recording of the webinar is available HERE.
As Urszula Budzich-Tabor reminded in her opening remarks, since early 2020 the COVID-19 pandemic triggered a series of unprecedented restrictions which affect all spheres of life: travel, work, leisure; services as well as primary production. While some national authorities were struggling to find appropriate solutions, many local communities took the initiative in search of reactions that would be within their capacity.
Presentations: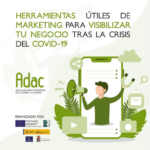 Lola Fernández Perpiñan and Fausto González Egido from the LEADER Local Action Group (LAG) called ADAC in Guadalajara, Spain, told how their LAG first carried out a survey among entrepreneurs to identify their needs, and on the basis of its results launched activities such as training for businesses in on-line marketing and safety protocols, developing a special line of investment grants, or helping asparagus producers to find employees for the harvest to replace the migrant workers unable to come due to travel restrictions. They also expressed their opinion on the new opportunities and needs that will be generated after the pandemic.
Giuseppe Pace from the CNR Institute for Studies on the Mediterranean of Naples explained how the arrival of COVID put a stop to uncontrolled growth of the tourism sector in Naples and thus created an opportunity to take a step back and reflect how, with the help of experts and the involvement of a wider range of actors (including civil society and SMEs), tourism development can be made more sustainable in the future, and facing the main 2021-2027 EU challenges.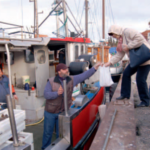 Monica Veronesi Burch from FARNET Support Unit presented activities that Fisheries Local Action Groups (FLAGs) undertook to help fishing communities deal with the impact of COVID in short and long term. She described two examples: the Baltic Sea Coast FLAG in Germany which had previously supported digital sales direct from fishers to the consumer; at the time of pandemic this meant that fishers could withstand disruption to longer supply chains thanks to an increase in direct sales. The French FLAG Esterel Côte d'Azur was quick to facilitate collaboration between the fisheries sector, restaurants and other actors to offer free meals to hospital staff, firemen and families in need.
Click below to see the presentations:
[bsk-pdf-manager-pdf id="96″][bsk-pdf-manager-pdf id="97″][bsk-pdf-manager-pdf id="98″]
Discussion:
Discussion facilitated by Peter Ramsden raised a number of issues including challenges linked with digitalisation and access to broadband, excessive development of tourism impacting local communities, competition between fishers and meat producers and the risk of subsidies going to the strongest actors. Overall, the discussion showed that impact of COVID pandemic on local communities reinforced and accentuated certain important lessons, in particular:
the need for a strategic, holistic approach, which is important not only so that communities can avoid partial solutions creating problems elsewhere (as in the competition between fishers and meat producers for the same consumers), but also to enable them see emerging opportunities – as when teleworking and a healthier environment might encourage people to move into rural and remote areas, thus combating depopulation;
the need for linkages: as demonstrated by the examples from LAGs and FLAGs, but also by attempts at digitalisation of tourist services, when different actors must work together to ensure that tourists find all the information they need (hotels and attractions as well as transportation, sustainability etc.);
the need to ensure participation of local actors in decision-making at regional, national and EU levels – for example about tourism development that may have an impact on local livelihoods, or making sure that the voice and access to funding for some of the smaller and weaker stakeholders (the "unusual suspects") are taken into account.
These needs should be kept in mind by communities trying to face up to crisis situations such as COVID-19. In the future it will be important to build the resilience of local communities. In this context, Robert Lukesch from ÖAR, Austria, contributed by presenting the key aspects of resilient communities developed by the Bavarian RDP managing authority as guidance to LAGs for the 2021-2027 funding period – see below. The discussion was also an opportunity to share a recent analysis of lessons from rural initiatives' response to COVID-19 published in February 2021 by AEIDL.
LDnet team:
Moderators:
Peter Ramsden, series coordinator, LDnet vice president
Urszula Budzich-Tabor, webinar leader, LDnet president
Contributors:
Giuseppe Pace, LDnet board member
Robert Lukesch, LDnet board member
Organisation:
Haris Martinos, LDnet secretary general