The third webinar of the LDnet series 'Recovery through community-led approaches' dealt with "New exclusions: How communities are combating digital, food and health exclusions". It was organised in partnership with AEIDL (the European Association for the Information on Local Development), and was attended by some 50 participants.
The recording of the webinar is available HERE
The webinar leader, Peter Ramsden, pointed out in his opening comments that urban, rural and coastal communities are facing different forms of exclusion, going from food and health to education and digital. Such exclusions can be temporary or permanent and they have in many cases become more acute as a result of COVID-19. It is very often the response to a crisis situation that determines the capacity of local actors to deal with these forms of exclusion. The examples in this session were chosen because they demonstrate new social practices or new modes of governance to tackle this issue.
Presentations: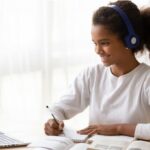 Rui Franco from Lisbon city council described activities of the urban CLLD network of Lisbon, using CLLD funding from ERDF and ESF as well as municipal contributions to address exclusion linked to the COVID pandemic. The online school support system provides assistance of volunteers to individuals or groups of up to 5 students from the 7th to 12th grades who have difficulties to keep abreast of online education. Another initiative of the network is to provide free meals to people in need while purchasing the food from small-scale producers facing bankruptcy due to COVID restrictions. More than 11 000 such meals are distributed each day, and the system also creates employment for community members at risk of exclusion. See Rui's presentation below.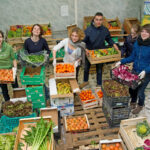 Two examples from Italian cities were presented by Rosalba La Grotteria from CODEX and Giuseppe Pace from ISMed-CNR. Rosalba talked about the experience from Turin, where the city council has supported a number of services for the excluded. The association Terza Settimana developed a replicable model of social market – a system to collectively purchase and distribute food to people in need with a software that enables online shopping, whereas Gruppo Abele in addition to food provides help to get out of poverty. Giuseppe explained that in Naples support to people at risk of exclusion due to pandemic was initially provided by the citizens, but the city had to step in when individual resources to help started running out. Food for the most needy, space for on-line learning and educational support as well as psychological support were made available. See the full presentation below and related report HERE.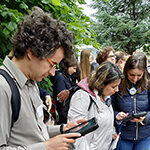 Enrique Nieto from AEIDL presented an example of a "Smart Village" from rural France. Rural digital exclusion requires a comprehensive approach involving access to infrastructure as well as developing skills of the local population. The village of Lormes in Burgundy found a way to move from a digitally excluded rural area to an experienced digital player. Thanks to a charismatic mayor the inhabitants jointly developed a vision and comprehensive policy on increasing the local digital capacity and setting priorities for the use of digital services. See Enrique's presentation below.
Click below to see the presentations:

Discussion:
The discussion focused on the following key points:
the need to combine the bottom-up initiative of citizens with the top-down support from the public sector. While the traditional public sector approaches often leave behind the weakest, citizen's initiative alone cannot cope with all the needs in the long term;
the conditions that make it possible to develop durable systems of solidarity. The examples and discussion stressed the importance of strengthening social capital where it is weak (as in many rural areas, especially in Eastern Europe), and using existing linkages and networks (e.g. in Lisbon). CLLD can play an important role, provided it maintains enough flexibility. It was also pointed out that people who were helped once are more likely to help others;
the role of public procurement systems to help the needy, e.g. in the case of cities buying food from producers facing difficulties. It is important to be able to identify those really in need rather than the usual suppliers.
LDnet team:
Series coordinator and webinar leader:
Peter Ramsden, LDnet vice president
Contributors:
Rosalba La Grotteria, LDnet honorary president
Giuseppe Pace, LDnet board member
Organisation and reporting:
Urszula Budzich-Tabor, LDnet president
Haris Martinos, LDnet secretary general