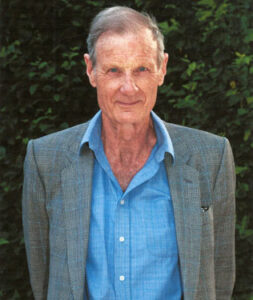 We are very saddened at the news of the death of Michael Dower, a great champion of rural communities, leading light in rural development, long-standing friend and member of LDnet.
Michael passed away on 7 November 2022. He had a long and fruitful life. He trained as a chartered surveyor and town planner followed by an impressive track record in the UK, including work with London County Council and the Civic Trust before he founded the Dartington Amenity Research Trust. High level roles followed: he managed the National Park of the Peak District in England, was Director General of the Countryside Commission, and taught at the University of Gloucestershire as Professor of European Rural Development.
Active at national and transnational levels in the EU and beyond as well as in his own LEADER LAG, Michael was gifted with exceptional clarity of thought and ability to convince all kinds of audiences. He was the driving force in numerous initiatives: He founded and served as president of ECOVAST – the European Council for the Village and Small Town. He co-founded and animated the European Agricultural Convention (EAC), now ARC2020. He was co-creating the CURE – Convention for Urban and Rural Europe. He co-founded and served as coordinator of PREPARE – Pre-accession Partnership for Rural Europe, supported the launch of many national and regional Rural Parliaments and was an ardent supporter and animator of the European Rural Parliament. He was also a very active member of Forum Synergies, and many other European civic initiatives.
Michael remained active and influential to the very last moment and many remember his passionate video speech to the Kielce meeting of the European Rural Parliament in September 2022. His multi-faceted contribution over so many years will remain an inspiration for future generations!