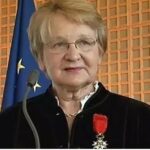 Maria Nowak who has died on 22nd December 2022 at the age of 87 single handedly changed the path of micro credit in Europe.  Born in Lviv (then in Poland) in 1935 Maria survived the war and the destruction of her family home and went to live in France as hostilities ceased at the age of 11.
After school, she was Educated at Science Po and the London School of Economics. Much of her first career was in international development, and it was there that she started working with microfinance transferring the Grameen model to West Africa. Later she worked for the World Bank.
1n 1989 after meeting Mohammed Yunus and being inspired by the Grameen story, she set up ADIE the Association pour le Droit d'Initiative Economique with just two volunteers.  Her idea for ADIE was to help those refused by the banks to obtain loans to set up in business.  ADIE now makes 25000 loans a year mostly to unemployed people going into self-employment. It is the largest micro-finance organisation in Europe and has managed to develop a model that provides loans to those without In collateral at reasonable interest rates while providing business support to borrowers.
In 1994 Maria wrote " La Banquière de l'espoir" – (The Banker of Hope), Albin Michel. In 2005 she published "On en prête (pas) qu'aux riches " (Lending not only to the rich), JC Lattès.
From 2001-2 Maria was involved at national level as a special adviser in the Cabinet of Laurent Fabius, then minister of Finance, where she helped to develop the French auto-entrepreneur statute which was finally adopted in 2008.  This status enables self-employed people to pay social security in proportion to their income (pay as you go) and pay a  single tax up to a threshold (currently €77700).  This status radically simplifies the accounting and management of start-ups.
Maria had already set up the Microfinance Network, headquartered in Warsaw and was its first president.  MFC supported the development of microfinance in central and Eastern Europe and the republics of the former Soviet Union. In 2003 Maria was instrumental in founding the European Microfinance Network.  The founding partners were ADIE, Evers and Jung and the New Economics Foundation.  ADIE hosted the organisation in its early years in Paris.  In 2012 it moved to Brussels to be better placed for lobbying the European institutions. Soon after EMN and MFC merged to create a single organisation covering all of Europe and neighbouring countries. We worked on the annual evaluation of EMN for three years in the noughties.  Presenting the final report to the board was a tough outing and it was usually the questions Maria posed that were hardest to answer.
She was awarded the "Human Rights Prize" awarded by readers of the newspapers "La Croix" and the "Liberté de Fribourg" for her work in favour of "microcredit development " in France. In 1998 Maria was made Chevalier de la Légion d'Honneur and in 2005 officier de l'Ordre du Mérite
A fuller obituary in French by Benoit Granger who worked with her over three decades can be found at on LinkedIn.
Peter Ramsden
January 2023