LDnet's workshop in this year's European Week of Regions and Cities on 'Achieving social inclusion in CLLD in the context of the results-orientation of the ESI Funds' took place on Wednesday 12 October from 9:00 to 10:45 at the Committee of the Regions (Workshop Ref 12B76 ). It was very well attended and focused on the double challenge that a results-oriented approach presents when it is combined with the pursuit of social inclusion, especially in the context of Community-Led Local Development (CLLD).
The new orientation on results of the ESI Funds can help to focus EU funding on activities that contribute to the objectives of EU 2020, but in some situations it can have the effect of narrowing down the intervention or imposing additional bureaucratic barriers on local actors. This can happen especially in the context of CLLD, where the main added value of reaching the hard-to-reach groups and getting them involved is not easy to capture, and there may be a temptation to focus on easier target groups in order to obtain the expected "measurable results", e.g. in terms of jobs created. With the rise of populations at risk, including migrants and refugees, local development actors may also have to introduce flexible systems of adjusting their strategies to the changing situation.
The workshop presented and debate the first experiences in local development in the new context and ways to address social inclusion while maintaining the mandatory results orientation. Local development actors from countries which have experienced economic crises and their social implications (Greece, Ireland), countries with a track record in integrating inclusion in the local development process (Sweden) and other countries addressing social inclusion in multi-funded CLLD (Poland) presented relevant experiences and lead an open debate on EU-wide lessons.
Speakers: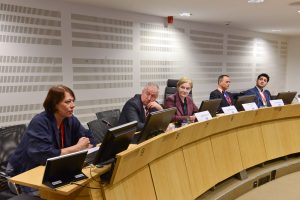 Eileen Humphreys, Limerick City & County Council  / President LDnet
Tasos Perimenis, Manager, Lesbos Local Development Company
Sohrab Fadai, Business Association Företagarna
Ryszard Kaminski, President, Polish Rural Forum
Moderator: Urszula Budzich-Tabor, FARNET / Vice-President LDnet
Click below to see the main presentations:
[bsk-pdf-manager-pdf id="17″]
[bsk-pdf-manager-pdf id="16″]
[bsk-pdf-manager-pdf id="15″]
[bsk-pdf-manager-pdf id="18″]