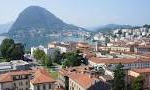 The RSA Annual Conference 2018 took place in Lugano, Switzerland from 3rd to 6th June on the theme of "A World of Flows: Labour Mobility, Capital and Knowledge in an Age of Global Reversal and Regional Revival".  As part of the Conference, "Policy Tuesday" on 5th June focused on issues and inputs concerned with place-based policies. LDnet organised a special session on "What the Cohesion Policy needs (but doesn't get) from Research: The Case of Local Development" with the aim of improving the interaction between research, policy and practice in local development.
The session was chaired by Haris Martinos and the panellists included policy officers and researchers:
Robert Lukesch,

ÖAR Regionalberatung GmbH

/ LDnet
Lewis Dijkstra, DG Regional and Urban Policy, European Commission
Fiona Wishlade, European Policies Research Centre, University of Strathclyde
Nicola Francesco Dotti, Université Libre de Bruxelles
The session was attended by 70 researchers and debated a range of issues raised in a Background Paper prepared for this event by LDnet and by conference participants. To read the Background Paper click below.
[bsk-pdf-manager-pdf id="37″]
A number of points were raised during the debate by the panellists and other participants in the session and a quick and non-exhaustive summary is presented below.
What drives / enables local development?
Understanding the processes of local development presents multiple challenges: complexity, coordination and capacity challenges stand out.
Local capacities are an important factor. In some areas there are excellent skills and strong traditions, even a "cognitive monopoly", which can drive much of development activity. But that begs the question of "what about the areas that don't have such strengths"?
Leadership is another important factor and experience shows that it makes a lot of difference. However, it is more the "right" configuration of actors with various backgrounds that can lead to innovation than a one-man show.
What's the geography of local initiatives?
From a macro-perspective we don't have an overall picture and no baseline below NUTS III level. Eurostat is trying to capture more issues below NUTS III, but there are doubts that micro-statistics will show much at CLLD level.
It has been argued that successful local initiatives come mostly from prosperous areas. A challenge for Cohesion Policy, is what can be done in and for less prosperous areas. From a research perspective, a big question is: what is the geography of local initiatives?
How much more coordination?
Coordination within the local level and between the local with other levels is often regarded as a central issue and "more and better coordination" has become a standard conclusion and recommendation.
This has been challenged by the view that we shouldn't over-do it and that seeking to coordinate everything is futile. Hence, the message:  "keep things small, scale matters".
Participatory vs representative decision-making
Local ownership is crucial, treasured at the local level and recognised and increasingly stressed by the higher levels. But the strong participatory results of CLLD often come into collision with the rights of the elected leaders to decide.
Should the local mayor be stopped from pursing projects that the "community" or "experts" say that they don't make sense? This is a question that led to considerable disagreement.
"We need reflection". "We need dialogue". "We need serious commitment over long time". At least there is hope that these processes can lead to a resolution …
Assessing impact vs learning:
Capturing the full essence of CLLD/LEADER is still a challenge. The LEADER evaluation guidelines stipulate that the added value of LEADER can be captured by focusing on three dimensions: (i) enhanced results and impacts; (ii) improved social capital; (iii) improved governance (meaning both local and multi-level governance). Whereas for the first ones there are a number of conventional methods to grasp the added value of LEADER-funded projects against those funded under mainstream top down policies, the second and third ones cannot be measured with conventional quantitative methods.
Therefore conventional Cohesion-type evaluation of CLLD doesn't work well. Assessing impact might be better done in small ways. We need adopt long timescales in order to measure over time.
It was argued that it's easier (and perhaps also more meaningful) to evaluate outputs than impacts. To focus on unique experiences, hear directly from the beneficiaries, rely more on qualitative aspects.
Anyway, as a learning process evaluation should be an integral part of the project rather than a separate exercise.
Yes. Knowledge is needed! What knowledge?
There is no disagreement that knowledge is need for policy making, for the local development strategies, for designing and implementing projects, for evaluating and learning from experience, etc. But what knowledge?
It was convincingly argued that "we can't know everything" and that creating and sharing knowledge should relate to different levels and categories of actors: from EU to municipal government levels, to other local stakeholders, and to researchers.
Regional development is already an established discipline in universities and research institutes, mostly embedded in regional economics or geography departments. Extensive data sets at NUTS II and NUTS III level allow for statistical and algorithm-based processing and analysis, broadly used in studies and evaluations. When it comes to smaller scales, where we rather speak about local development. Big data are not relevant here. Qualitative methods which rather come from social anthropology and hermeneutical traditions of sociology are more appropriate to study and evaluate development dynamics at that level, such as the circumstances of the emergence of social innovation – which mostly starts at local level, somewhere and some time. There are some institutes spearheading that research such as the TESAF Institute at the Padova University which focuses on measuring changes in the social capital of Italian LEADER areas. But all in all, this whole field of local development as a research or study discipline is rather neglected.
Comments and suggestions on the above points and on the issues raised in the Background Paper are welcome. Click here to take a very short survey.