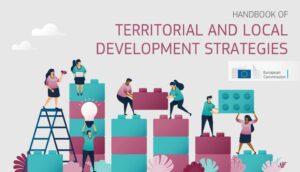 Inspiring experiences and future opportunities
The European Commission's Joint Research Centre (JRC)  has recently published a "Handbook of Territorial and Local Development Strategies". It is addressed to both managing authorities and to strategy owners and other local stakeholders involved in the design and implementation of CLLD, ITI or other territorial instruments, especially in non-urban areas.
Several LDnet experts were involved in the preparation of this valuable tool (Stefan Kah and Loris Servillo as co-authors, Urszula Budzich-Tabor as one of the reviewers).
The Handbook is available HERE.
The launch event of the Handbook took place on 18 November 2022, and it was attended by over 200 participants (physically and online). Presentations and recording from this event are available HERE.
The JRC is also preparing, in collaboration with DG AGRI and DG REGIO, a series of tools which will facilitate access to knowledge and information concerning EU rural areas and small towns, such as the Rural Observatory (Rural Data Platform), Rural Toolkit (guide on funding opportunities), or policy atlas of small urban areas. Capacity building of local actors through territorial peer reviews and the organisation of the annual Startup Village Forum are also envisaged.