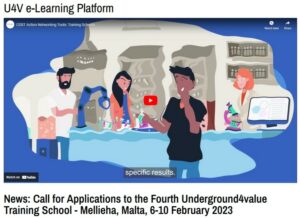 The COST Action CA18110 – Underground Built Heritage as catalyser for Community Valorisation is issuing a Call for Applications for its Fourth Training School, managed by the University of Malta, which will be held in Mellieha (Malta) from February 6th to 10th, 2023.
Structured in lectures and tutored research teamwork modules, the school will focus on four topics:
UBH as a cultural landscape
Developing strategic thinking, planning and reuse for the underground world.
Investigating, studying, and outlining UBH: from Textual Data Analysis to 3D Surveying and socio-cultural mapping
Practical tools for case studies investigations: Organisational, digital, and communication tools
A preparatory webinar will be organised end of January for introducing participants to theoretical and methodological contents.
Applicants may apply for one of the 24 (twenty-four) grants for the participation at the training school. Applications can be sent to the Action's Training School Coordinator – Shirley Cefai (shirley.cefai@um.edu.mt) until December 30th, 2022, who can also deal with applicants' questions regarding the call, the application process or the Training School.
Further information is available HERE.