On 6 June 2019, LDnet organised a special session at the annual conference of the RSA in Santiago de Compostela on the topic of "Strengthening the impact of research on EU local development policies".
The LDnet workshop presented the opportunities and challenges of involving the research community in designing and analysing EU local development policies, in particular CLLD and Smart Villages, from the perspective of practitioners (Urszula Budzich-Tabor), researchers (Nicola Dotti, Loris Servillo) and the European Commission (Nathalie Verschelde, DG REGIO).
The workshop was attended by some thirty researchers interested in the topic. Small and medium-sized towns as well as rural areas are an important reality increasingly recognised by EU policies, hence the incentives to develop place-based approaches. Solutions must be found if researchers are to go beyond the publication pressure; they must also learn to disagree and to look critically.
The Commission is very keen on building bridges between research and practice and on making sure research results are used. A community of experts dealing with local development policies might help in harvesting lessons learnt and overcoming silo mentality.

The LDnet "Discuss and Debate Session" focusing on strengthening the impact of research on EU local development policies aimed to encourage exchange between researchers, practitioners and policy makers involved in local development, with particular attention to such territorial tools as LEADER/CLLD and Smart Villages.
The session started with a reminder of the key features of CLLD which have the potential of bringing Europe closer to citizens: its partnership-based, bottom-up, integrated character, with the local community in the driving seat, taking key decisions about the local strategy and the use of EU funding. While CLLD approach capitalises on nearly 30 years of experience, Smart Villages are a new tool which can be used under rural development to help local communities develop innovative solutions to local economic, social or environmental challenges in a participatory way. Click below for the full presentation by Urszula Budzich-Tabor (LDnet and FARNET Support Unit).

[bsk-pdf-manager-pdf id="58″]
Involvement of the research community can help policy makers and practitioners address a number of issues linked with these territorial instruments. In the case of CLLD, the key questions include:
how to provide strong evidence on CLLD results (especially less tangible)? How to measure its contribution to innovation or local governance?
how to assess the impact of national delivery systems on CLLD results?
how to harvest lessons from CLLD to help the implementation of Smart Villages and ensure experience transfer?
how to ensure systematic exchange between experts, researchers and practitioners of local development?
From the Smart Villages perspective, there is clearly a gap as researchers often focus on innovations in agriculture, but very little research supports innovative non-agricultural solutions in rural areas. In the next programming period (2021-2027) the possibility of setting up a mechanism similar to the EIP-AGRI (supporting partnerships between farmers, researchers, extension services and other actors to address specific needs linked to agricultural production and processing) could be considered.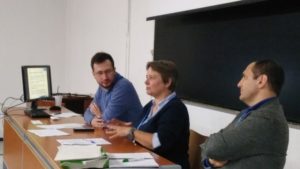 The panellists: Nathalie Verschelde (European Commission, DG REGIO), Nicola Francesco Dotti (VUB, Belgium) and Loris Servillo (Bartlett School of Planning, UCL, UK) contributed to the debate facilitated by Urszula Budzich-Tabor (LDnet and FARNET Support Unit).
Making research more relevant for policy makers involves a number of challenges. Research can bring out certain critical or even negative aspects of policies. Researchers have different views which are often difficult to reconcile, and sometimes they are not really interested how the results of their research will be used (beyond meeting the publications requirement). On the other hand, in the EU agenda the recent narrative focusing on place-based policies is largely due to research findings, and this topic offers attractive possibilities of further studies. It is therefore important to try and build bridges between the two worlds. The possibility of creating a "community of experts" focusing on territorial tools in EU policies would require considerable investment of time and effort, but it could help to break the "silo mentality".
Other points raised in the discussion included:
– the potential of CLLD to facilitate co-production and community development should be taken into account in the analysis
– there is perhaps a need for "brokers" who can help close the gap between research and practice
– timing is important, as current period funding is coming to an end and little is known about the future.
The LDnet debate at the Policy Day of the RSA Annual Conference was part of a series of workshops focusing on local development and CLLD: it was preceded and followed by two workshops dealing with CLLD from the point of view of "Experimental Governance and Task-specific Space for Policy Action" – this enabled a certain continuity of discussion. These two workshops presented both theoretical considerations and case studies:
– Loris Servillo (UCL, UK): overview of key conceptual challenges linked with territorial approaches and multi-level governance,
– Stefan Kah (University of Strathclyde, UK): analysis of the experience so far with using ERDF under CLLD (with examples from Sweden, Czech Republic and Slovenia),
– David Fekete (Szechenyi Istvan University, Hungary): presentation of the strategy and governance of the local partnership using ERDF and ESF in the Hungarian city of Györ,
– Kim Pollermann (Thünen Institute of Rural Studies, Germany): results of a study of how LEADER is perceived by non-participating local actors,
– Judith Hann (Cornwall Development Company, UK): experience of multi-funded CLLD (ERDF and ESF) used to address multiple deprivation in Cornwall,
– Urszula Budzich-Tabor (FARNET SU): the potential of CLLD in fisheries areas (with some project examples) and some dilemmas linked to delivery systems.
A background paper entitled "Local development: an opportunity to bridge the gap between research and practice" was shared before the workshop and is available by clicking below:
Background paper:
[bsk-pdf-manager-pdf id="57″]