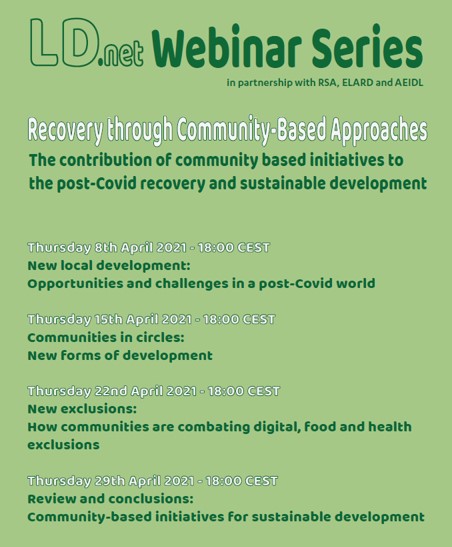 Following positive feedback from participants in LDnet's 2020 series of webinars, we are launching a new series of four webinars in April 2021 on "The Contribution of Community-based Initiatives to the Covid Recovery"' with a focus on community-based initiatives for sustainable development.
All webinars will be streamed via Zoom. Registration will open in early March.
The webinars, will follow the same format as last year: through short late afternoon/early evening sessions relying on short/sharp presentations and lively contributions from participants and discussion, to look at how the lessons from local responses and the longer-term changes in the social and economic landscape are reshaping the CLLD-type approaches to local development and post-Covid recovery.
Topics have been provisionally identified and members and friends are welcome to contribute (contact Peter Ramsden or Haris Martinos), including case examples and co-curating the following sessions:
"New local development opportunities and challenges in a post-Covid world". Lead curator Urzsula Budzich Tabor. This session will focus on rural and coastal communities. It will explore how local groups are responding during the recovery and building community cohesion.
"Communities in circles:  new forms of development". Lead curator Maria Joao Figueras Rauch. This session will look at how local initiatives in the circular economy are improving usage of resources by creating virtuous circuits. Examples include local food, water recycling, electrical repair groups.
"New exclusions: How communities are combating digital, food, heat/electric/water, health exclusions". Lead curator Peter Ramsden. The session will explore how communities are responding to poverty by addressing food, fuel and water supply. Other contributions will focus digital inclusion and issues around health, water supply and fuel poverty.

Conclusions and lessons learnt

, moderated by Peter Ramsden. Key questions include, how can community-based solutions be spread more effectively? How can communities work at transnational level to innovate without reinventing the wheel? What support is needed at local, national and EU level?